National Sauvignon Blanc Day! - 5 May 17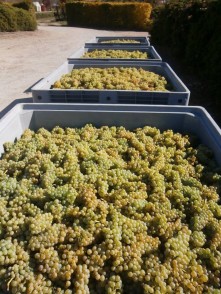 Sauvignon Blanc from this years harvest!
Today we are celebrating 'National Sauvignon Blanc Day' in recognition of the importance of this grape variety to New Zealand's wine industry. Seventy two percent of the wine produced in New Zealand is Sauvignon Blanc, and 85% of what we export, which makes it a multimillion export industry. Here in Central Otago there is about 45 hectares of the grape planted which makes up about 3% of the grapes grown in this area.
Here at Domain Road we have had Sauvignon Blanc planted since 2004, producing our first vintage in 2007. Further plantings were done in 2005 at Domain Road and then in 2012 a further block was planted on Defiance Vineyard on Felton Road - giving us about 1.5 hectares in total. These three locations are all slightly different, with the Domain Road blocks being on Templars Hill (an area untouched by the 19th century goldmines) and on Doctor's Flat, where mining has exposed rich mineral clays on top of an ancient lake bed, and a corner of Defiance with clay based soils. These different locations and varying vine ages gives our Sauvignon Blanc its distinctive character as each block produces fruit with slightly different flavours.
So help us mark this day by pouring a glass of your favourite 'Savvy' and if it happens to be Domain Road - so much the better.
PS Winter has arrived in Bannockburn with a sprinkling of snow on the mountains around us - it is looking very lovely at the moment!