March in the vineyard - 6 Mar 16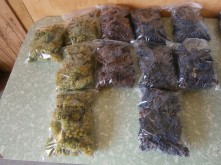 Signs of an approaching harvest - Fiona is starting to take samples from around the vineyard so that the people at the winery can monitor the sugar and acid levels of the various grapes. The bags contain Sauvignon Blanc, Chardonnay, Pinot Gris and Pinot Noir grapes from Defiance vineyard, from the results of the sampling it looks as though we are on track for harvest in late March or early April.
Also happening this month is the bottling of the 2015 Pinot Noir and Chardonnay - both are looking good from the barrel and it will be an exciting time for us when we release our first Chardonnay later in the year.