drinking faux pas - 28 Feb 16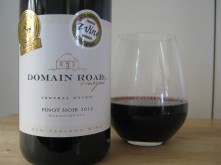 There is no 't' in Pinot Noir (or Merlot!) - read on before you say yes there is!! Whilst we might cringe at the thought, according to a recent survey carried out by the British newspaper the Telegraph pronouncing the 't' in Pinot Noir and Merlot are two of the UK's top 20 wine drinking faux pas. Others include complaining that the red wine isn't cold, putting red wine in the fridge and adding lemonade to your red wine.
It appears that for the British (like many of us I suspect) price is a serious consideration when selecting a wine - but looks (attractive labeling) and familiarity are also key factors. The writer of the article, Joe Wadsack, made the point that "If shoppers spot an International Wine Challenge medal on a wine, they can buy with confidence knowing that it has been blind tasted by some of the best wine judges in the world".
And the point of this story, our 2012 Pinot Noir has such a medal (and an IWC regional trophy) so if you have not tried it yet - call by the cellar door where we are tasting it or if not in Central Otago then listen to Joe's advice and buy with confidence!!