Cuisine Top 10 Rose - 20 Dec 15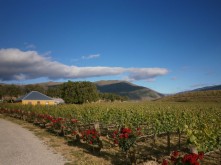 Roses and Pinot Noir vines!
Success for our Pinot Noir Rosé in Cuisine, coming into the Top 10 and being awarded 4 stars. One of the judges, John Belsham "enjoyed this wine's "touch of herbs de Provence" in among a bowl of subtle strawberry notes. Crunchy acids underpin the fruit and supply freshness and vigour. The finish is tight and dry. Serve it with smoked salmon blinis". Although not available at the cellar door, it is available in some wine shops and restaurants so keep an eye out for it - you can also check with our distributors where it could be available (there is a link to them on the home page).
The roses alongside our Pinot Noir vines reflect this success looking absolutely stunning this year!!