Frequently asked questions! - 15 Mar 15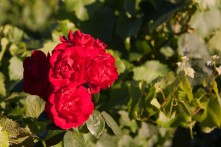 "Why do you have roses at the end of the rows?" is the question that I get asked the most by visitors to the tasting room.
The planting of roses is very traditional and historically it may have been a useful way to detect potential problems with fungal disease, such as powdery mildew, as both vines and roses are susceptible to this. Early detection may have made it possible to take action before the vines became too infected.
Another nice story that I have heard is that the roses were planted to prevent animals, used in the vineyards to pull carts, from damaging the end stakes - which were not quite as robust as the end posts commonly used these days.
Venture into a vineyard and the roses soon disappear - in fact I have it on good authority that the viticulturists dislike them!!
So the short answer to the question is that they look great as you drive into the vineyard and in planting them we are holding on to a tradition that, historically, may well have served a useful purpose.