Harvest time - 3 Apr 14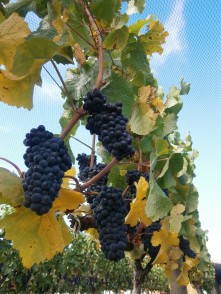 A rose by any other name ....in this case Rosé (although we do have red roses at the end of the rows).
We picked the Pinot Noir for Pinot Noir Rosé today – the fruit looks wonderful so for all you folks who like our Rosé for summer time drinking and were disappointed when we sold out this year - there is more on the way.
We had a beautiful day for the start of harvest and a great group of young European backpackers helped bring the fruit in. It was a great effort by all concerned.