Defiance sometimes pays off.... - 23 Mar 19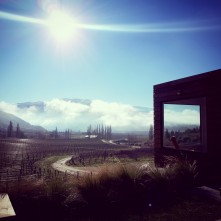 We chose the name Defiance for our second vineyard because we went ahead with planting despite all the advice we received that economically this was not a good time to expand in the wine industry. The wines that come exclusively from fruit grown on this vineyard all carry the label 'Defiance' - there are three of these our Defiance Pinot Gris, Defiance Chardonnay and Defiance Pinot Noir. All these wines are showing the benefit of their prime Felton Road location. The 2016 Defiance Pinot Noir has just been awarded 97 points by Cameron Douglas MS and the 2017 Defiance Chardonnay was not too far behind on 96 points. Both these wines feature in a lead article by Cameron in Hospitality and The Shout magazines, alongside our Paradise Pinot Noir 2015 (95 points) and Bannockburn Pinot Noir 2016 (94 points). To add to the feats of the Defiance Pinot Noir and Chardonnay our 2018 Defiance Pinot Gris, which is a delicious wine, won Gold at the NZ International Wine Challenge.
So we understandably feel that our decision to be 'Defiant' was a good one!
There is a link to the article in Hospitality below!
https://new.foxyms.co.nz/files/domainroad/Hospitality--March-2019.pdf